Public relations &
social media for consumer, technology
& entertainment brands

More
Strategy & creativity, sharpened by analytics. Frequent increases of 100% or more across key metrics.

We've tuned our approach working with top technology, consumer & entertainment brands – re-energizing plateaued programs, repositioning established brands & launching new companies and products. Using analytics to guide campaigns, we've learned important things about mass & niche media, digital & social media. And the interplay between digital and physical activities. It's a different model that makes a real difference; often 100%+ across numerous kinds of results.

More
Atomic at a glance

Full service PR, social media, digital and mobile capabilites

---

Analytics-guided strategy and creative. Frequent, significant upflifts in key results.

---

Offices in San Francisco, Los Angeles, Orange County, New York, London and Munich

---

Part of Grayling, a global agency with more than 70 offices across 40 countries
Privacy statement
Services

We provide strategic, creative programs guided by analytics. We bring new energy to plateaued programs, reposition established brands, and launch new companies and products. Our programs mix PR with digital/social media, video, events and other activities as needed. It's a fresh approach that often works 100%+ better across various key measures of campaign performance. Often on lower budgets.
Related content

Profile of a Facebook fan – SxSW editionMore

Tailored searches and filter bubblesMore

Atomic at social media week More
Public relations &
social media, video, optimization and other digital services
Public relations

Our public relations services include research and consultation, positioning, messaging, planning and writing across the entire range of PR-related content and materials. In addition, we provide spokesperson coaching, analyst and influencer relations, media relations across broadcast, print, online and blogs, analyst and media tours, review programs, awards programs, speakers bureau, thought leadership programs, industry event support, event management, internal communications, crisis management and more.

More
Ads & sponsored media

More
Design, digital and technical services

More
Method

The brands that hire us usually face complicated challenges, and they look to us for an edge. So on top of our experience, and meta strategic and creative capabilities, Atomic leverages sophisticated analytics at the core of every program - no extra charge. First, to gain a complete technical understanding of the specific situation at hand. Then to guide strategy & creative, planning & execution. We measure results in detail, apply the learning and go again. Our campaigns regularly mix public relations, social media, video, and various digital and guerilla operations - whatever's needed. It's a different approach that usually makes a big difference. Frequently 100% or more across all sorts of performance measures compared to pre–Atomic baselines. Often on lower budgets than before.
| | | |
| --- | --- | --- |
| | | |
| | Frequent uplifts of 100% or more | |
| | | |
Comments

"I think of Atomic as the Moneyball of PR,"
- Paul Holmes, the Holmes Report

"Atomic's ComContext analytics platform may be the best performance discovery and reporting tool out there from a PR agency,"
- Phil Butler, Everything PR

"Atomic is the blueprint for smart PR and social that breaks through"
- Joanna Shields, VP EMEA, Facebook
Strategy, creativity and evaluation - fueled by analytics

Atomic teams use ComContext™ analytics and processes to gain insight, build strategy, direct creativity and execute across mainstream media, social and digital platforms. And to measure program results in detail so that we know how our campaigns stack up to client competitors. ComContext helps ... More
Directed creativity

There are too many messages and too much content moving too fast today to stake any brand's PR and social media investment on subjective creativity without some technical firepower behind it. The ability to detect, understand and act on subtle, changing details in addition to nailing big picture creativity is critical to resonating consistently. Atomic's approach…

More
PR + social + digital + optimization

Atomic's cross-media campaigns often mix PR, mainstream and niche media, events, social media, video, digital media, content optimization and other things together within a common strategy. The results are usually a lot better than when they're done separately.
Cost-efficient program management

Atomic engagements are supported by online tools and streamlined processes that avoid the wasted motion that dilutes client budgets at other...

More
Results snapshots

Atomic clients regularly achieve significant uplifts in effectiveness more across many differerent measures of campaign performance. Often 100% or more. Measures include coverage and conversation volume, share of topic, length of content, source caliber and rank, accuracy of content, inclusion of photos and quotes, tonality or regard, clicks, likes, Web traffic and other variables. Here's a cross section of program performance snapshots.
Experience

Atomic works with brands of all sizes and stages in consumer, technology, Web, entertainment, sustainability and non-profit. We have a successful track record re-energizing programs and updating positioning for large, established brands, helping mid-stage companies go to the next level, introducing new products and and launching startups – a large number of which have been acquired by larger brands, or gone on to become household names themselves.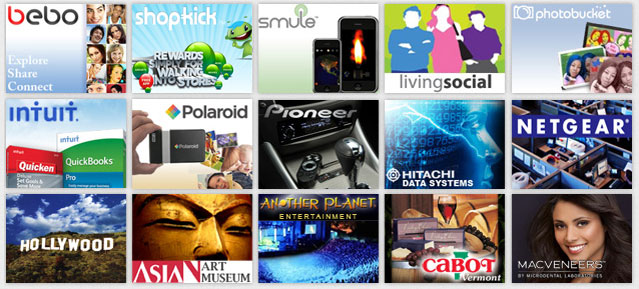 Featured campaigns

Atomic offers an alternative to more common approaches that rely heavily on professional opinion. In addition to top experience and professional opinion, we use hard data and sophisticated analytics to help guide strategy, creative, execution and evaluation of our campaigns. It's a powerful edge that often makes a big difference.
About

We've tuned Atomic's approach working alongside progressive brands in technology, consumer, entertainment, sustainability and non-profit. A pioneer in using analytics to guide creative and strategy, and to evaluate results in PR and social campaigns, we've learned important things about mass & niche media, social media, community and how various content behaves. And about the relationships between digital and physical communications. Things that apply to all brands now. It's a different approach that makes a real difference; often 100% or more across a variety of key measures of campaign results.

Today we create breakthroughs for all sorts of interesting brands; big and small. We're local, national and global. Small enough and big enough to do whatever needs to be done. Often on lower budgets than before. We're part of Grayling, an award winning global agency with more than 70 offices across 40 countries.
Office locations

More
Management

Atomic's senior executives were drawn from the ranks of other top PR, social media and digital agencies.

More
Careers

Atomic is a great place for smart, independent and productive people. And we're hiring. Current open spots include…

More
PR, social media and digital operations for consumer, technology & entertainment brands

More
Awards

2012 - 2 golds + a finalist, Sabre Awards

2011- Top 3 Mid-Size Agency & Top 3 Tech Agency, Bulldog Stars of PR. Top 3 San Francisco Agency, and a Fastest Growing Bay Area Company, SF Business Times. Top 5 Tech Agency, O'Dwyers. Finalist, Communications Technology, World Technology Award.

2010 – Dubbed "The Moneyball of PR, named US Tech Agency of the Year, Holmes Report. Campaign of the Year, PRSA. Finalist in 2 categories: PR Week Campaign
Locations

Atomic has offices in San Francisco, New York, Los Angeles, Orange County, London and Munich. Our London office serves as our hub for coordinating programs across Europe, the Middle East and Asia/Pacific. We are a closely-knit part of Grayling, an award winning PR and social media agency with more than 70 offices across 40 countries.
USA

[email protected]

San Francisco, CA

735 Market St. 4th Floor
San Francisco, CA 94103
415.593.1400

Los Angeles

8455 Beverly Blvd. Suite 300
Los Angeles, CA 90048
323.648.5420

Orange County

454 N. Broadway, Suite 200
Santa Ana, CA 92701
714-558-7668

New York

41 East 11th Street 10th Floor
New York, NY 10003
212.699.3645

UK & International

[email protected]

London

Atomic London
29-35 Lexington Street
London W1F 9AH
United Kingdom
+44 (0)20 7478 7801

[email protected]

Munich

Atomic Germany
Landwehrstrasse 61
80336 München
+49 (0)89 411 123 220